LAKE CLAIBORNE

Location in Claiborne P. Sec. B, Township 20, Range 5W LC Dam DOTD ID#:14-00011

FEATURE
DESCRIPTION
COMMENTS
Purpose
Recreation, Water Supply Reservoir
Year Completed
1966
Lake Length
8.5 miles
Shoreline Length
~ 40 miles
~30 miles improved in 1996
Lake Area at Pool Stage
6300 acres
Drainage Area
130 sq. miles (83,200 acres)
Lake Depth
Max.: 35 feet; Average: 15.7 feet
2.5 miles upstream from dam: 30 feet;5 miles upstream from dam: 20 feet
Lake Volume
99,500 acre feet of water
Length of Dam
5110 feet
Height of Dam
202' MSL or 17' above pool stage
Structural height = 72'
Spillway circular drop inlet
top: 62' diameter (200' crest length) ;opening at bottom: 30';3 9.5' x 14' concrete outlet conduits
only one of its type in LA
Drawdown Structure
2 8' x 8' sluice gates
invert elevation: 151.2'
Pool Stage
185' MSL
spillway crest elevation
Surcharge Elevation for
*Design Storm 198' MSL
*Based on actual 1933 storm in Cypress Bayou plus 35% volume
Surcharge Height
(in parentheses Lake Height in Feet MSL above Pool Stage)
Predicted Storms
*10 year storm: 3.5' (188.5');
*25 year storm: 4.6' (189.6');
*100 year storm: 6.6' (191.6');
Actual 1991 storm: 7.2' (192.2' );
Design (max.) storm: 13' (198' )
Rainfall/24 hrs. & Peak Discharge
Design storm: 15"
& 66,600 cfs
*100 Year storm: 10"
& 45,000 cfs
Actual 1991 storm: 12"
*By predictions, a 10 year storm has a 1 in 10 chance in any year, etc.
Water Level Drop
Max: 2 feet
Downstream Water
Surface Elevation
165.5'
Well below pool elevation, so no tailwater effect on outflow
Dependable Yield Water
Max: 63,000,000 gallons per day
Based on the 38 months from 1953-57
Hazard Rating
High
can cause costly destruction if dam fails

MSL (Mean Sea Level) is 150' at base of Lake Claiborne dam
Abbreviations: "Commission" refers to Claiborne Parish Watershed District Commission
LDWF: Louisiana Department of Wildlife and Fisheries
DOTD: Louisiana Department of Transportation and Development

Historic Timeline: LAKE CLAIBORNE
Establishment
- 1957: Project conceived
- 1959: Study completed
- 1963: Project funded & construction started
- 1965: Construction completed
- 1966: Clearing completed & gates closed in the fall
- 1968: Water ran over spillway (May 17, 1968)
Major Improvements
-1982: Outfall Channel Critical Area Treatment
Flooding
- 1991 (April): Maximum flooding to date; 6.5' above pool stage
- 1997: Twice reached levels 4' above pool stage
- 2009: Reached 3.5' above pool stage twice in a short period of time in November

top
Lake Claiborne Dam and Adequacy of Spillway Lake Claiborne Surcharge Reduction Study

Progress Toward Improving the Spillway
2002-2007 History of Contacts to Request Federal Aid for the Recoinnaissance Study-- Many contacts were made with Senators Landrieu and Breaux's offices and offers were made to request inclusion of the reconnaissance study in the federal budget. In 2007, Rep. McCrery's office announced that a request would again be made. Below is excerpt of a CPWD letter dated Sept. 30, 2002 to Senator Landrieu (Senate Appropriations Committee) acknowledging her promise to work to include in Federal budget funding for a US Corps of Engineering Federal Reconnaissnace Study to explore spillway designs to relieve flooding problem. Watershed Commissioners followed up on this course of action. For several years, budget requests were formally submitted in March.
RE: Landrieu Project No. 111099 attn: Herman Gesser, III, Projects Director Dear Honorable Mary Landrieu, We appreciate your assurance (in letter of September 12) that you will advocate for inclusion in appropriations legislation of funding to conduct a U.S. Army Corps of Engineers Federal Reconnaissance Study to explore spillway designs to reduce the 100-year storm surge for Lake Claiborne. We understand that if inclusion in the Fiscal Year 2003 Energy and Water Appropriations Bill is not possible at this late stage, you will continue to work for the inclusion of our proposal in the Fiscal Year 2004 legislation. We will appreciate your keeping us informed about developments concerning our request. ...'

top

CORNEY LAKE

Location in Claiborne P. Sec. B, Township 20, Range 5W LC Dam DOTD ID#:14-00011
FEATURE
DESCRIPTION
COMMENTS
Purpose
Year Completed
1937
Spillway Rehabilitation In 1995
Lake Length
Shoreline Length
Lake Area at Pool Stage
2350 acres
Drainage Area
443 sq. miles (?)
Lake Depth
6 feet
feet of water at pool stage
Lake Volume
14,000 acre
Length of Dam
3900 feet
Height of Dam
124.5' MSL or 9.5' above pool stage
Structural height = 28'
Spillway Length
680 feet
Drawdown Structure
Pool Stage
115' MSL
Elevation for Design Storm
123.66' MSL
Rainfall/24 hrs.
Design storm: 15"]
*Based on actual 1933 storm in Cypress Bayou plus 35% volume
Surcharge Height
Design storm: 8.66'
Feet above Pool Stage
Rainfall/24 hrs.
Design storm: 15"
*By predictions, a design storm is the worst predicted
Water Level Drop
Downstream Water
Surface Elevation
Dependable Yield Water
Hazard Rating

MSL (Mean Sea Level) is 150' at base of Lake Claiborne dam
Abbreviations: "Commission" refers to Claiborne Parish Watershed District Commission
LDWF: Louisiana Department of Wildlife and Fisheries
DOTD: Louisiana Department of Transportation and Development
FLOODING: Important Considerations:


The design of Lake Claiborne's spillway is such that opening the gates will not control a rising lake level when the rising level threatens to affect lakefront property. Lake Claiborne is not a flood control lake. The gates are designed to lower the lake for lake maintenance only. See DOTD material in Watershed District files for more information.
Lakeshore residents are advised to build with the flood potential in mind. DOTD has a standing request to the Watershed District to issue this advice on an ongoing basis.
Engineers have calculated the expected rise in Lake Claiborne water level during a storm for different scenarios (many assumptions are made, so the calculations yield estimates only):
"Design storm" discharge (based on 15" rainfall in 24 hours, considered the worst storm possible) would result in a rise in the water level of Lake Claiborne 13 feet above the lake's normal pool level.
"100 year storm" discharge (10" rainfall in 24 hours) would result in a 6.3 feet rise in lake level.
"25 year storm" discharge would result in a 4.6 feet rise in lake level.
"10 year storm" discharge would result in a 3.5 feet rise in lake level.
Discharge from an actual storm in 1991 resulted in a 7.2 feet rise in the level of Lake Claiborne above pool level.'
(see Lake Claiborne Surcharge Reduction Study)


At the northern end of the dam, there is an all earthen structure (without impervious core) lower than the dam's height, designed as an emergency spillway in the event of the "probable maximum flood." This spillway would provide water outlet only when the lake level rises to approximately 11 feet above normal pool level. (see Lake Claiborne Surcharge Reduction Study)

LAKE DRAWDOWNS

Drawdown of Lake Claiborne, 2004 Presentation


Year
Depth
(feet)
Rate
("/day)
Time
Period
Purpose
Comments
1971
5
4-6
Aug 2- Oct 15
Bank stabilization; Erosion
control; LDWF
shoreline improvements
Returned to pool stage Mar. 10
1973
8 1/4
(Jan) ?
Returned to pool stage Apr. 25
1975
8
3
Aug 1- Jan 10
1980
8
4*
Aug 15-
Jan 1(plan)
*Broken pin, so level dropped 12' before repair, then more with drought; returned to pool 12/16/82
1982
5
Aug 1-
Shoreline repair; Decrease tannic acid from decaying timber
Some preferred post-Labor Day drawdown; LDWF advised bass
spawning can start Feb 15
1987(?)*
*Information: Commission's May minutes report recommendation
1990
4*
Sep 5-Dec 7
*Commission authorized optional increase at request of shoreowners
1991 (?)*
Sep-Jan 1
*Information: Commission's Apr minutes & 1998 study reporting 3 1990 drawdowns
1996
7 (optional
by plan)
Sep-
Shoreline repairs (but some planning was confused by optional depth of drawdown) Closed gates after 5' drop (rainfall considerations); Commission established regular 3 year drawdowns*
(Newspaper:'usual 5 year interval')
*rescinded Oct 1996
1998
7 (plan only)
Shoreline property repairs after severe weather
Canceled. Lake residents surveyed: 232 for drawdown & 211 against. Public meeting: 90 for, 217 against.
1999
4
3-4
Sep 6 -Jan 17
Expose stumps for buoy placement
Complaint: "short drawdown" causes erosion under retainer walls
2004
7' drawdown was planned
3-4"/day was planned, but 5+"/day was drawndown for the first few days
Sep 4-Jan 31 was scheduled

(Gates were closed, though, on Jan 7 because the lake level was lower than planned.)

Shoreline, Buoy, & Lisbon Landing, repairs; tree clearing on dam
WLF did not approve Watershed District's request for regular, every 8 years, drawdowns for shoreline repairs. There were many problems with this drawdown. Downstream landowners complained of flooding (unusually heavy Oct. rains), so DOTD slowed rate of water release; contractors complained they could not complete deep water pier renovations, so rate was increased; end date was extended to Jan. 31 (vs Jan 15 planned) but proved to be unnecessary because gates were closed on Jan. 7 due to excessive (~9 feet) lake lowering (faulty meter).
2007
3' drawdown
Scheduled Sept. 17 (after duck hunting)
GPS positioning of pole channel markers

Other information on Drawdowns:
- Drawdowns are used to promote aquatic habitats and fish populations, but an untimely or excessive one can interfere with the same. LDWF suggested Labor Day to Jan. 15 as the ideal time and a 5' to 6' level drop to satisfy public demand while not compromising aquatic life (Commission's March 8 minutes)
- DOTD operates drawdowns deferring to LDWF for timing to protect aquatic life; Commission may seek concurrence of LDWF before requesting DOTD or may ask LDWF to request DOTD.
- In 1997, LDWF recommend against lowering Lake Claiborne for flood control on the grounds that the control gates were not designed for this purpose (April 1997 Commission minutes);
- Commission considered prerelease (winter lake lowering in anticipation of spring flooding). LDWF reported that such action might harm largemouth bass and possibly crappie reproduction. (1998 minutes)

- RESOLUTION FOR ROUTINE DRAWDOWNS OF LAKE CLAIBORNE
June 20 2002 Meeting Minutes recording Draft Resolution for Routine Drawdowns of Lake Claiborne and discussion of the resolution.
Adopted by Claiborne Parish Watershed District Commission on June 20, 2002
WHEREAS, the Commission is charged by state statute with the care, management, and control of Lake Claiborne with the purpose, among others, to prevent destruction of property; and is also charged by state statute to cooperate with state agencies in the maintenance and operation of Lake Claiborne dam; and
WHEREAS, over the years the Commission has received citizen complaints that drawdowns for routine lakeshore property maintenance are arbitrarily scheduled and often conducted without sufficient notice to arrange for repairs, and
WHEREAS, a seven foot drawdown, at a rate of 3" to 4" per 24 hours, initiated the week after Labor Day and ending by January 15, has been successfully accomplished in the past and is considered reasonable, and
WHEREAS, the Department of Transportation & Development controls the gates of Lake Claiborne spillway and the department, before initiating a drawdown, seeks the assurance of the Department of Wildlife and Fisheries that aquatic life will not be seriously harmed, and
WHEREAS, the Department of Wildlife and Fisheries has advised drawdowns no more frequently than every eight years, except for urgent reasons, and
WHEREAS, Department of Transportation and Development engineers have stated that Lake Claiborne dam was designed to allow for drawdowns for shoreline repair and have written, in June 2002, that the gates of Lake Claiborne dam are "in excellent condition and could be utilized without mishap for a drawdown," and WHEREAS, the last regular drawdown was six years ago with a short drawdown three years ago,
NOW THEREFORE BE IT RESOLVED, that the Commission issue a written request to the
Department of Wildlife and Fisheries with the following recommendations:
1) that a drawdown of Lake Claiborne be scheduled every eight years for the purpose, among others, of routine maintenance of property along the lake shoreline,
2) that for such regularly scheduled drawdowns, the lake be lowered a maximum seven feet below pool stage at a rate of 3" to 4" per 24 hours, with emphasis on the word 'maximum' to state that the lake should be lowered only to the level that would meet goals and be consistent with Dept. Of Wildlife and Fisheries requirements,
3) that such drawdowns be initiated during the week after Labor Day and ended before January 15,
4) that in the event of an interval drawdown conducted for urgent reasons, such as aquatic life stress or widespread property damage after a major storm, the every eight year schedule should be resumed eight years after that urgent drawdown,
5) that any commission request for an urgent drawdown have the consent of six of the seven commissioners, and
6) that scheduled drawdowns begin in the fall of the year 2004, which is eight years after the last full drawdown in 1996, assuming agreement of Dept. Of Wildlife and Fisheries with respect to the impact on aquatic life, and of the Department of Transportation and Development with respect to the condition and operability of the gates for a drawdown at the time.

Note: Discussion at the June, 2002, meeting included the following observations: 1) based upon one Lake Claiborne drawdown experience, with every drawdown there is risk, however small, of operation failure with devastating sequelae; 2) (from DWF's James Seales) the effect of Lake Claiborne drawdowns on the fish population has been difficult to determine, possibly, in part, because drawdowns have been relatively frequent; 3) (from WLF's James Seales) a drawdown of 5 or 6 feet generally would not be expected to seriously compromise aquatic life but that a 7 foot drawdown would begin to expose important lake bottom.

As of 2007, Dept. of Wildlife and Fisheries has declined to act upon the request made through the above resolution.

top


FISHING
Historic Timetable and Fishing on Lake Claiborne
1974: Lake Claiborne was selected as a Louisiana impoundment to be stocked with striped bass
1987 (May): LDWF netting yielded mostly hybrids, then German carp, then large channel
catfish
1988: Commission agreed that striped bass be returned to lake, at LDWF's request
$4000 for channel catfish
LDWF: Lake Claiborne was chosen for Intensive Lake Management 1/89-1/90
100,000 disease-free catfish were stocked
1992: Accepted stripers
Purchased 100,000 catfish fingerlings
1993: Stocked stripers
Commercial netting forbidden because:
1) channel catfish are expensive, difficult to raise, & susceptible to netting and
2) Commission had spent $29,225 stocking 412,000 channel catfish
1997: LDWF won't stock striped bass, including hybrids, at Commission's request
Later, at citizen request to reconsider prohibition, Commission agreed to return
to LDWF all considerations regarding stocking of plants and animals in Lake Claiborne
2002: Feb. 4 Watershed Commission stocked 68,000 catfish fingerlings-LDWF
recommendation
May 3, LDWF stocked the lake with 70,000 Florida bass fingerlings
May 6, LDWF stocked the lake with 65,000 (or 68,000?) Hybrid striped bass fingerlings
2007: May 4, LDWF stocked the lake with approximately 69,984 Florida Largemouth Bass fingerlings
May 17, LDWF stocked the lake with approximately 68,608 Hybrid Striped Bass fingerlings
Fall -- LDWF stocked the lake with Channel Catfish fingerlings
2009: LDWF stocked the lake with Channel Catfish fingerlings (photos)

top



Studies of Fishing on Lake Claiborne
1) Pezold, Frank and Kittler, Cynthia. An Assessment of Water Quality, Zooplankton, and Fish Production in Lake Claiborne, La.:A Final Report Submitted to the Lake Claiborne Watershed District Commission." Dept. Of Biology, Northeast Louisiana University and Grambling State Universities. 1998
2) Louisiana Dept. Of Public Works, Lorris Wimberly, Dir. Water Resources Development Investigation: Claiborne Parish. Feb. 1959
3) Louisiana Department of Transportation and Development. Lake Claiborne Surcharge Reduction Preliminary Feasibility Study. August, 1998
4) Bertrand, Alvin L. Project Dir. Middle Fork Bayou D'Arbonne Reservoir Project: A Feasibility and Social Impact Study , Bulletin 687. Louisiana State Univ. Agricultural Experiment Station. Aug. 1975
5) Pezold Frank, Hill Anna, and Kittler, Cynthia. Increasing Largemouth Bass Production in an Oligotrophic Reservoir. Northeast Louisiana Univ. & Grambling State Univ. 1997

Penzold and Kittler Study: Summary (Reference Above: #1'Studies of Fishing on Lake Claiborne')
In 1998, the Claiborne Parish Watershed Distric Commission requested a study (1-Pezold: see 'Studies' below) of water quality and fish production in Lake Claiborne. Findings of that study and other from sources are presented here.
Lake Claiborne, like most reservoirs associated with small watersheds on Gulf coastal plains is an oligotrophic lake: low alkalinity, slightly acidic soft water, soils nutrient poor & low in calcium.
- low calcium negatively affects alkalinity, a measure of buffering capacity, i.e. capacity to maintain a constant pH of lake water (e.g. in past, heavy rains have lowered pH on Lake Claiborne)
- calcium is a necessary element for aquatic life; low calcium is an index of low nutrients in general
Fish production in Lake Claiborne , esp. of large mouthed bass, is relatively low .
- total fish production averages 131.6 lb./acre2 (highly variable by year and site)
- largemouth bass production averages 9.75 lb./acre (rotenone assays 1970-1989, LDWF data)
- all life stages present, including larval, i.e. well- established in Lake Claiborne
- low productivity at all life stages because of:
1) water quality of the lake
2) prefer as prey structure-oriented forage fish, not shad, an open-water fish that makes up 78% of adult fish biomass (Lake Claiborne, 1994)
3) shad consume nutrients otherwise available for largemouth bass
- hybrid striped bass were introduced to use nutrients lost to largemouth bass
Authors of the study recommended increasing lake fertility by manipulating lake water levels, planting a cover crop on exposed lake bottom. Dropping the lake level allows new vegetation on the exposed lake bed, taking up nutrients locked in the sediment. Reflooding releases nutrients from decaying vegetation. Infrequent but extreme drawdowns are usually recommended (authors suggest annual or biannual), because more frequent drawdowns can decrease forage for certain species and leave a fluctuating zone unsuitable to all species. Small annual drawdowns (20% of lake substrate) have been used successfully. Seasonal timing is most important. Low and fluctuating water levels in spring and summer compromise near-shore spawners (shiners, white crappies -- perch), vegetation spawners, and young-of-year, e.g. bass.

top



Commercial Fishing on Lake Claiborne and Permitting Commercial Establishments
LEGISLATION INTRODUCED BY REP. GALLOT, REPRESENTING CLAIBORNE PARISH, HB NO. 975, amended and reenacted R.S. 38:2874, relative to the Claiborne Parish Watershed District; to authorize the Wildlife and Fisheries Commission to regulate the commercial and recreational use of nets and traps on Lake Claiborne; and to provide for related matters as provided by Article III, Section 13 of the Constitution of Louisiana.
R.S. 38:§2874. Management of fish; commercial establishments
A. The Wildlife and Fisheries Commission may regulate, restrict, or prohibit the recreational or commercial use of hoop nets, gill nets, trammel nets, strike nets, seines, wire nets, slat traps, and wire traps on Lake Claiborne.
B.(1) The board of commissioners of the Claiborne Parish Watershed District shall have authority to establish and cause to be enforced rules and regulations pertaining to all commercial establishments which may be constructed for the purpose of commercializing and making commercial use of the facilities provided by the said lake or its watershed; to license and permit such establishments and to levy and collect a fee, to be fixed by the commission, for the privilege of making commercial use of the facilities of said lake, or to refuse to license or permit any commercial establishment to use the facilities provided by said lake.
(2) The rules and regulations established and promulgated by the board of commissioners of the Claiborne Parish Watershed District shall provide penalties for any such commercial establishment operating without a permit or license, and such rules and regulations shall be enforced by the sheriff and violations thereof prosecuted by the district attorney of the judicial district within which the watershed district is situated, as hereinabove provided.
Added by Acts 1966, No. 299, §14; Acts 1993, No. 830, §2; Acts 2004, No. 541, §1.
PIPELINE CROSSING LAKE CLAIBORNE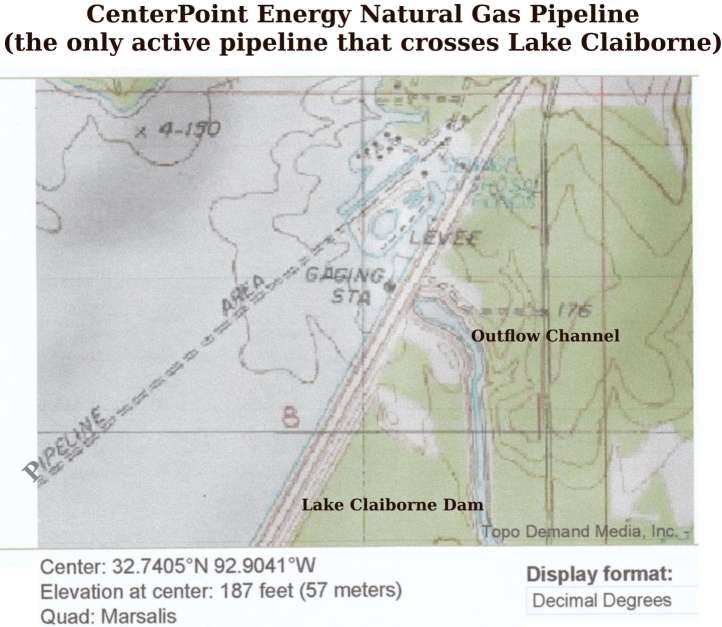 Marking Natural Gas Pipeline Crossing Lake Claiborne

top


Contact:

Claiborne Parish Watershed District Commission

Mailing Address: P.O. Box 266, Homer, LA 71040

Physical Address: 507 W. Main, Homer, LA 71040 (Police Jury Office Complex, Courthouse Square, Homer)

Hours: Phone Calls are answered M-F 7:30am-4:30pm Call to request a visit with a member of the commission.

Phone: (318) 927-5161

Email: cpwatershed@yahoo.com

Clerk: Jo Anne Horner

top

Lake Claiborne State Park
Email:
lakeclaiborne@crt.state.la.us
Lake Claiborne State Park Economic Analysis 2004-2005
Lake Claiborne State Park Adds $1.6 Million To Local Economy In 1998
By Susan T. Herring, Editor, The Guardian-Journal (Parish site)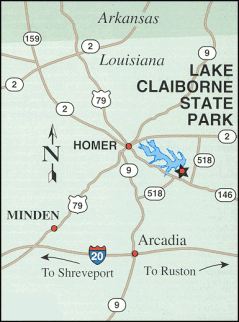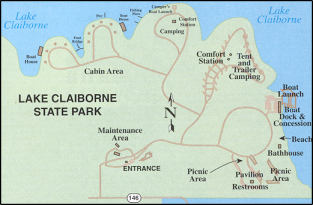 Photos of Lake Claiborne

Photos of Corney Lake